Death of a freedom fighter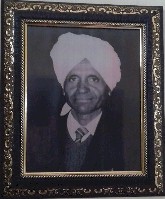 Shri Karam Chand
My self is managing a website wakeupindians.com in remembrance of my late father Shri Karam Chand, a freedom fighter of India. He used to say," I never had imagined this kind of free India". In the year 1942, during the Quit India Movement, when he was 24 years old, he was injured by a gun shot but survived. In the year 2011 he lost his life by a small ailment when he was not allowed timely admission in the hospitals.
He survived when injured by a gunshot fired by British soldiers.
During freedom struggle of India my father was injured by a gunshot. On 12 August 1942, while he along with other freedom fighters was out in the streets, shouting Bande Matram, to defy curfew, a bullet fired by a British soldier pierced through his right side of neck just above the collar bone. Many other protesters were also seen injured and falling on the ground. My father, still conscious and alert, could quickly roll himself towards a wooden extended platform of a nearby shop and slipped in a narrow drain. He kept himself hidden as he was aware that the British soldiers would soon arrive to pick up the injured. He was aware that the soldiers would throw the injured or dead in the flooded Yamuna River. After a few minutes, he could see the Gorkha soldiers taking away the injured in a small military truck. Then there was complete silence and he was getting unconscious.
When he got conscious, he found himself lying in a hospital bed. His leg was chained with the bed and soldiers were seen guarding the hospital room. In due course of time during his treatment his condition started worsening. Once he felt he was going to die when, during a semi unconscious state, he could hear some person in the room saying," He won't survive. It is better to vacate the bed for other critical patients". They were preparing to stop further treatment. He tried to move his left arm to give them a signal that he is hearing them. They may have noticed a little movement of his left hand fingers. Next time he could see a nurse using injections to extract pus from near his neck. After about a month his condition started improving. He was able to walk but his right arm remained num and hanging. One morning a policeman started handcuffing his hands. He was told that they are taking him to court.
When he was being taken to the court at central jail his both hands were handcuffed on his back. His legs were too chained by heavy shackles. Irrespective of great weakness and fever on account of gunshot injury, he was brought to jail on bare foot by four policemen. On coming out of the hospital he found that he was admitted in Irwin Hospital (Lok Nayak Jai Prakash Narayan Hospital). He was taken to a temporary court setup at Feroz Shah Kotla Ground. When he was being taken to court, a small crowd of people were following him and were heard commenting, "He must be a dacoit". He used to be taken to court almost daily for several days and was only allowed to stand among many other prisoners without any hearing of the case. One day, a Shri Bakhshi Ghulam Mohd court of Central Jail acquitted him saying," He got his punishment".
He told us that many injured colleagues of that tragedy day remained missing. He was aware that the British soldiers (of Indian origin) used to throw the dead or injured in Yamuna River from the old Delhi Railway Bridge. After independence, whenever he felt depressed, he used to go to the old Delhi Railway Bridge. Once he took me along in the middle of Railway Bridge and pointed his finger towards the flooded river," We used to see many dead bodies. Rawel Singh and Pyare lal may have been thrown from here". I could see his tearful wet eyes.
During his confinement his business was looted by his own servants. His family remained isolated in poverty and a new born son (my elder brother) died of pneumonia without any treatment.
When his arm gained some strength he joined Air H Q as a stenographer. He retired from the government job in 1974. At that time he thought to avail freedom fighter pension and started collecting documents in his support.
He could trace and collect copies of FIR No. 122/1942 and FIR No. 10/2943 from police station of Paharganj area. In the FIR it was clearly mentioned that he ( KARAM CHAND) was under arrest along with other freedom fighters. That he was injured by a gun shot on his right shoulder just near the neck. He was acquitted by the Hon'ble courts of Shri Bakhshi Ghulam Mohd, the then M.M. Delhi on 8.1.1943 and 11.1.1043.
A glimpse of some part of FIR of those days:
1943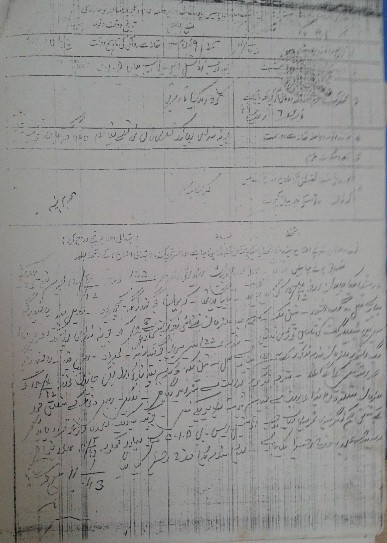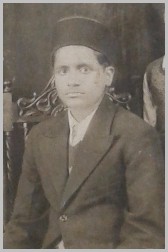 1942
It was not an easy task to justify that he was the same KARAM CHAND whose name is mentioned in the FIRs. He could locate one person of those days namely "NEN SINGH", who was still staying at Paharganj, Delhi and was recognized as a prominent freedom fighter by the central government. NEN SINGH recognized him and gave a testimony in his favor as was required by the freedom fighter division.
He got his freedom fighter recognition from the Delhi Government.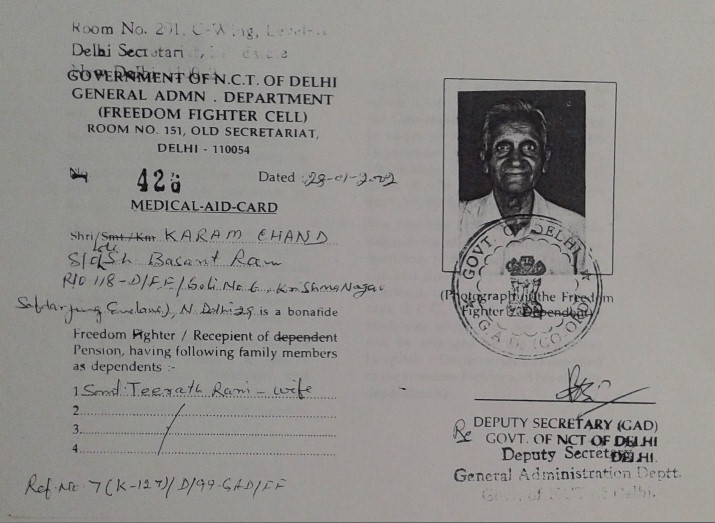 But, he could not succeed to get freedom fighter recognition from central government for some reasons. He used to go to Freedom Fighter Division, Lok Nayak Bhawan frequently and had met many staff members. He refused to accept some of their suggestions and sent a representation to the Under Secretary, Freedom fighter division on 28th April 1998.
When he realized that they are not going to decide his case, he forwarded a representation to the Honorable Home Minister on 23rd July 1999. He promptly got the following response.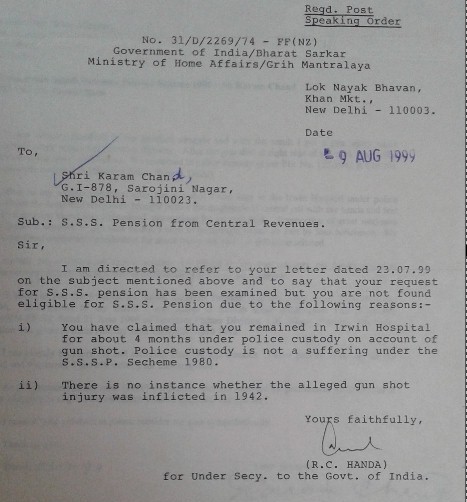 He died in 2011 due to uncaring attitude of hospital staff
Once when he returned home from his morning walk, he vomited a little blackish material. Next day, on 20th May 2011, when he did another vomiting of blood coated material, an ambulance was called to take him to hospital. He was taken to Mohinder Hospital at Green Park Extension, Delhi. This hospital was on a panel list for freedom fighters. The hospital staff informed them that they are no more on the panel list for freedom fighters. They advised me to take him to another hospital immediately. He was taken to Modi Hospital (Now known as Max Hospital) which was on the panel list for retired government employees. He was taken to the emergency care unit of the hospital on the ambulance stretcher and we waited in the veranda to be allowed to enter the emergency ward. When we contacted the emergency staff, a young doctor came to the veranda and started checking him with his stethoscope. The doctor said that he requires immediate admission in the causality ward but they don't have any vacant bed to get him admitted. We informed the young doctor that he is a freedom fighter and a retired government employee and may be given some space in the hospital till his condition is critical. The doctor remained adamant and advised us to take him to nearby PSRI hospital. He was taken to PSRI hospital and they immediately admitted him and asked us to deposit Rs. 50,000 at the cash counter so that his treatment could be started. When they were informed that he is a freedom fighter and we don't have so much cash for immediate deposit, they asked us to take him to another hospital. Before we could get him out from PSRI hospital, they asked us to pay the amount for the short period he was kept in the hospital. We paid the amount at the cash counter but it took sufficient time to clear the dues. He was taken back to Modi Hospital and we told them that we are not going to take him away anywhere else and they must admit him in the hospital. At that time he was taken to the emergency ward. The weather was extremely hot and dry. He asked for water. My younger brother immediately went out of the hospital to purchase a packed water bottle. A nurse started giving him glucose and oxygen while he was still on the stretcher of the private ambulance. A pulse reading monitor was also attached with his finger. The same young doctor asked my father to raise his arm which he did. After an hour the doctor informed us that his condition is stable and we can take him back home. When I asked the cause of blood stained vomiting, he informed me," nothing to worry as they have given him blood thickening medicine along with the glucose. It will control internal bleeding". The doctor gave us some details written on a small piece of ordinary paper to be shown to our local CGHS dispensary. The fact is that the hospital did not enter any details related to his identity and ailment in their record.
When we were shifting him back in the ambulance my wife informed me on my mobile that my mother has expired. We returned home and shifted my father to a bed. At that time my father was sleeping or unconscious. I asked a family member to take care of my father and try to give him some water when he will be awake.
Now I was watching my dead mother. She was on her bed with her knees bending upwards. Her hands were folded on her chest. It appeared as if she was trying to breathe with great difficulty. She had stretched her neck up and sideways. Sweating was still visible on her neck and face. My heart was beating fast. I tried to straighten her stiff legs. It appeared that she expired when we were shifting my father in the ambulance. As she had gone blind a few years back she was trying to guess what was happening to my father. She had lost her eyesight after her cataract operations due to negligence of doctors. My father tried to fight her case with Safdarjung hospital staff but failed to get justice.
We arranged a refrigerated coffin box to keep the dead body of my mother and started informing our relatives. At around 11 PM we noticed that my father was still sleeping in the same posture. When we tried to awaken him we found that he too had left this world. His body was cold and there was no pulse. It appeared that he died during shifting him home from the hospital. Both my father and mother were not aware of each other's death. We placed the body of my father along with my mother in the same refrigerated coffin. Next day, both were cremated together. My father may have died due to excessive thickening of blood and dehydration because of the extremely hot season of May.
My father was 96 years old and my mother was 92 years old. People call it natural old age deaths.
I remember his words," I never had imagined this kind of free India".